Best Import Dealership - 2016 Mississauga News Readers Choice Awards
August 01 2018, Mike Beggs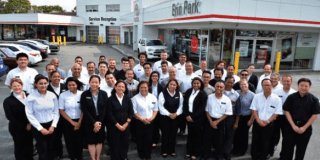 Erin Park Lexus and Erin Park Toyota double up on awards in Best Luxury Dealership and Best Overall Dealership categories.
A mainstay of the Erin Mills Auto Centre, the Erin Park Automotive Group has doubled up again in the 2016 Mississauga News Readers Choice Awards.
Erin Park Toyota (2411 Motorway Blvd,) was named Best Import Dealership, while its sister operation Erin Park Lexus (2360 Motorway) won for Best Luxury Dealership. That speaks to their stellar product, and commitment to providing guests with experiences that will not only meet, but exceed their expectations.
"Every member of the Erin Park team has the same goal and common passion, and that is to create smiles for every guest who comes into Erin Park — that's from the car jockey, up to the owner," says general manager P.J. Caletti, whose father Gino is president and founding partner.
"I believe guests want fair value, and that they want to feel valued. I think Erin Park does a neat and tidy job of doing that."
Erin Park Toyota was one of the founding dealerships in the Erin Mills Auto Centre, back in 1987. Four years later, they brought the luxurious Lexus brand into the fold, with a new dedicated showroom, marking the beginning of Erin Park Lexus Toyota.
A decade later, Lexus was granted a standalone location a few doors down. And 20 years later, Erin Park unveiled its expansion to 32,000 sq.ft. while moving the service department offsite to larger nearby quarters.
"We expanded our ability to deliver a more luxurious visit for the guest," Caletti says.
They've also replaced private sales offices with "conversation tables", and portable tablets, throughout the showroom. All of these changes have Erin Park Lexus on course for a record year – and the Toyota store is following suit with those latter improvements.
"We want to approach our guests in a collaborative fashion, so there's an open environment," he explains. "I think it's important we're developing a relationship with a guest. The more transparency we can offer them, the stronger the relationship."
Similarly, Erin Park deeply values its relationship with the Mississauga community, developed over the past three decades. It takes part in annual events like the Streetsville Bread & Honey Festival, and the Port Credit In-Water Boat Show, and makes two cheque presentations per year to its Evergreen Fund, which supports local schools and youths in greening the environment.
"It's bridging the gap between business and community," Caletti offers. "We're not just car dealers, we're your brothers, and sisters, and neighbours. We want you to come in and feel welcome. It's a place for us to meet."
"One of my favourite events within the Auto Mall are the Olde Tyme Christmas (celebration), and Free Family Midway in the summer months. That's something I'm very proud of." Speaking of traditions, the Corolla remains one of Canada's "go-to cars", with its strong price/ performance package. But the real hot commodity at Toyota is the 2016 RAV4 SUV, the subcompact that's sleek and fuel ef cient, roomy for road trips, and features reversing camera.
"We're seeing a real shift in the Canadian market. The greatest level of consumption is in the SUV's," he observes. "Smaller cars are no longer the competitive leader."
" RAV4 and SUV's are very, very popular in this economy. We believe the RAV4 represents great reliability and value, and it has just been such a great story. Whether this is sustainable, I don't know."
He credits Toyota Motor Corporation President and CEO Akio Toyoda with doing a "fabulous job" of infusing his passion into their latest designs.
"That has made Toyota a very emotional choice. Our cars are sexy, along with being reliable, and a good value," he adds.